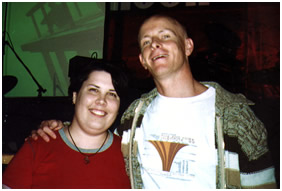 This is obviously me with some guy...
Name: Kate (aka k8).
Star Sign: Cancer. Not telling u my age but I'm a Snake, so work that one out!
Lives: Wollongong NSW. Home of the NBL and NSL champs...woohoo.
Fave Skunkhour album: Chin Chin, followed by The Go. Sometimes they're inversed, depending on my state of mind at the time.
Fave Skunkhour song(s): Also depends on my mood, but usually either Sunny Side Up, Weightlessness or Kick in the Door. Other notables include Back to Basics, Sunstone, Another Childish Man, Gold Radiation... oh, and Stadium ;).
Fave Skunkhour fella: haha I dig them all (but I have a soft-spot for follicly-challenged.....).